Release 0.1.5 Notes
New features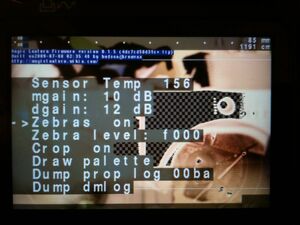 Config file (magiclantern.cfg) support
Lens zoom and focus distance readouts
No more audio clicks! Only re-writes the AK4646 registers when necessary.
Power save can be disabled to leave the camera on full-time
Preliminary HDMI support (overlays are not all in the right places)
Auto-liveview can be disable to support problematic cards
Larger menu font
Preliminary Sobel edge detection for "video peaking" (check config file to enable)
CMOS temperature readout (maybe; not certain of units)
Transparent zebra stripes
Known issues
First two seconds of audio in first movie recorded will be wrong gain
Lock-ups can occur if "SET" is pressed while Magic Lantern menu is up
Magic Lantern menu is not cleared if zebras are not drawn
Lock-ups will occur if the card slot is opened with the Magic Lantern menu is up
Record indicator is covered by lens information
Non-chipped ("chinese") batteries won't boot cleanly
HDMI overlay is not in correct location (left audio level is not visible)
HMDI cable must be plugged in at boot
Composite video is never enabled
USB mode is disabled
Playback of movie audio on headset is disabled (always in loopback mode)
Internal features
Better build system
DryOS properties supported
Silenced many verbose messages in debug log
Preliminary lens info parsing
Dynamic menu creation
bmp_printf now takes a fontspec with color and size
X11 to bitmap font converter
Downloads
THIS IS A PRE-RELEASE VERSION. Do not use it for production. There will be problems with it. It might destroy your camera. Please don't complain widely on the forums if something doesn't work -- we want to fix it.
Ad blocker interference detected!
Wikia is a free-to-use site that makes money from advertising. We have a modified experience for viewers using ad blockers

Wikia is not accessible if you've made further modifications. Remove the custom ad blocker rule(s) and the page will load as expected.