Ad blocker interference detected!
Wikia is a free-to-use site that makes money from advertising. We have a modified experience for viewers using ad blockers

Wikia is not accessible if you've made further modifications. Remove the custom ad blocker rule(s) and the page will load as expected.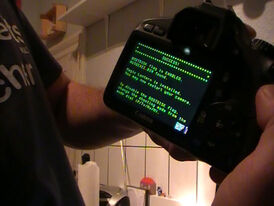 Die einfachste Installation von ML auf die Canon 550D.thumb|right|275px|Einfache Installation von ML auf der Canon 550D
Tagelang habe ich gesucht und probiert, doch nun ist es auch für Laien ein Kinderspiel die firmware von ML auf eure canon 550D zu installieren.
Das kleine Video auf der rechten Seite zeigt die schnelle Installation. Leider wurde ich wärend der Installation von meinen Nachbarn Jonas angerufen. Doch das sollte für den Zuschauer kein Problem darstellen. Die Firmware von ML bekommt ihr hier auf diese Seite:
Seite zum Download für ML Canon 550D
Die ganzen Futures welche ML beinhaltet muss ich nun
selber noch raustüfteln. Das Gute ist auf alle Fälle, die neue Audioeinstellung
Wer gerne einige Filmbeiträge und sonstige Aktivitäten von mir sehen möchte, kann gerne mal hier auf dieser Page vorbeischauen: