Ad blocker interference detected!
Wikia is a free-to-use site that makes money from advertising. We have a modified experience for viewers using ad blockers

Wikia is not accessible if you've made further modifications. Remove the custom ad blocker rule(s) and the page will load as expected.
For 550D, see GUI Events/550D.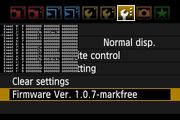 gui_main_task() retrieves events from the main message queue. The types are 0-6 and the events have an integer parameter, an object pointer and an unknown 32-bit value.
0: GUI_CONTROL
1: GUI_CHANGE_MODE
2: Local event?
3: GUI_OTHER_EVENT (11 == CANCEL_ALL_EVENT)
4: Timeout?
5: GUI_CHANGE_SHOOT_TYPE
6: GUI_CHANGE_LCD_STATE
The massive gui event handler transforms the parameter value for GUI_CONTROL events into some other type of event. The low values (0x00-0xFF?) are reserved for dialog box items on screen. It should be possible to generate a mapping of event parameters to GUI events and each button to a gui event.
0x800 == GOT_TOP_OF_CONTROL
0x801 == LOST_TOP_OF_CONTROL
0x802 == INITIALIZE_CONTROLLER
0x804 == TERMINATE_WINSYS
0x805 == DELETE_DIALOG_REQUEST
0x807 == PRESS_RIGHT_BUTTON
0x809 == PRESS_LEFT_BUTTON
0x80B == PRESS_UP_BUTTON
0x80D == PRESS_DOWN_BUTTON
0x80F == PRESS_MENU_BUTTON
0x812 == PRESS_SET_BUTTON (maybe)
0x81B == PRESS_UP_BUTTON
0x820 == SUB_DIAL (spin left)
0x823 == PRESS_MLT_CENTER_BUTTON
0x829 == PRESS_INFO_BUTTON
0x82B == ELECTRONIC_SUB_DIAL_RIGHT
0x82C == ELECTRONIC_SUB_DIAL_LEFT
 ? == SUB_DIAL (spin right)
0x10000000 == PRESS_DISP_BUTTON
0x10000005 == PRESS_DIRECT_PRINT_BUTTON
0x10000007 == PRESS_FUNC_BUTTON
0x10000009 == PRESS_PICTURE_STYLE_BUTTON
0x1000000B == OPEN_SLOT_COVER
0x1000000C == CLOSE_SLOT_COVER
0x1000008A == START_SHOOT_MOVIE

[AJ] It was getting a little messy - and so I've separated my 5D entries into the following:
| Button Event num | Button_Event | App |
| --- | --- | --- |
| 0x804 | TERMINATE_WINSYS | DlgLiveView.c |
| 0x805 | DELETE_DIALOG_REQUEST | DlgLiveView.c |
| 0x807 | PRESS_MLT_RIGHT_BUTTON_press | DlgLiveView.c |
| 0x809 | PRESS_MLT_LEFT_BUTTON | DlgLiveView.c |
| 0x80B | PRESS_MLT_UP_BUTTON_press | DlgLiveView.c |
| 0x80F (and 0x10000000) | PRESS_MENU/DISP_BUTTON | DlgLiveView.c |
| 0x812 | PRESS_SET_BUTTON (strange Logic) | DlgLiveView.c |
| 0x819 | PRESS_TELE_MAG_BUTTON | DlgLiveView.c |
| 0x81A | UNPRESS_TELE_MAG_BUTTON | DlgLiveView.c |
| 0x81B | PRESS_WIDE_REDUCTION_BUTTON | DlgLiveView.c |
| 0x81C | UNPRESS_WIDE_REDUCTION_BUTTON | DlgLiveView.c |
| 0x81F | PRESS_MLT_LEFTUP_BUTTON | DlgLiveView.c |
| 0x820 | PRESS_MLT_LEFT_BUTTON (spin left?) | DlgLiveView.c |
| 0x821 | PRESS_MLT_LEFTDOWN_BUTTON | DlgLiveView.c |
| 0x822 | PRESS_MLT_UP_BUTTON_press | DlgLiveView.c |
| 0x823 | PRESS_MLT_CENTER_BUTTON | DlgLiveView.c |
| 0x824 | PRESS_MLT_DOWN_BUTTON_press | DlgLiveView.c |
| 0x825 | PRESS_MLT_RIGHTUP_BUTTON | DlgLiveView.c |
| 0x826 | PRESS_MLT_RIGHT_BUTTON | DlgLiveView.c |
| 0x827 | PRESS_MLT_RIGHTDOWN_BUTTON | DlgLiveView.c |
| 0x829 | PRESS_INFO_BUTTON | DlgLiveView.c |
| 0x10000000 (and 0x80F) | PRESS_MENU/DISP_BUTTON | DlgLiveView.c |
| 0x10000001 | PRESS_ERASE_BUTTON | DlgLiveView.c |
| 0x10000003 (and 0x10000009) | PRESS_PICTURE_STYLE_BUTTON | DlgLiveView.c |
| 0x10000005 | PRESS_DIRECT_PRINT_BUTTON | DlgLiveView.c |
| 0x10000009 (and 0x10000003) | PRESS_PICTURE_STYLE_BUTTON | DlgLiveView.c |
| 0x10000069 | LOCAL_OLC_BLINK | DlgLiveView.c |
| 0x1000006B | LOCAL_LV_CARD_CHANGE | DlgLiveView.c |
| 0x1000006D | LOCAL_DIALOG_REFRESH_LV | DlgLiveView.c |
| 0x10000077 | LOCAL_MOVIE_RECORD_SECCOU | DlgLiveView.c |
| 0x10000078 | LOCAL_MOVIE_RECORD_STOP | DlgLiveView.c |
| 0x10000079 | LOCAL_MOVIE_RECORD_ERROR | DlgLiveView.c |
| 0x1000007A | LOCAL_MOVIE_RECORD_BUFFER | DlgLiveView.c |